O2 Replacer is built compact in the ENIGMA Type-P.
The ENIGMA Type-P is iOS&Android both supported Premium version.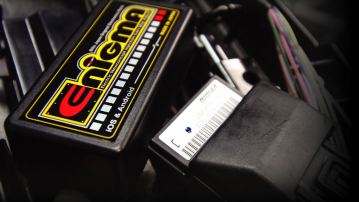 ENIGMA premium version with built-in, air-cooled car oil temperature gauge function / water-cooled car is equipped with a water temperature gauge function O2 replay service to ENIGMA for stopping the O2 sensor feedback. Taipu P is no longer enter the O2 feedback correction to increase / weight loss by simply connecting it by interrupting the ECU wiring, you can make weight gain / weight loss of fuel adjustment MAP street set in apps and PC. It is recommended to tune vehicles such as one and bore up cars power-oriented setting. Moreover, it is also possible to revive the O2 feedback function by way of attachment. O2 replay server feature "fine adjustment of the idling" can be in the smartphone and personal computer from dial-up of the body will be "wireless", more and more convenient. Of course, limiter cut function and various setting functions also supports both iOS and Android in the conventional manner.
Wireless Idling tweak

You can set up by slide bar for PC/Smartphone.
Oil/Water temperature display
ENIGMA type P have Oil temperature display(air cooled car)/Water temperature display(water cooled car). (SUZUKI ADDRESS V125 is the engine temperature display.) You can see engine condition real time by smart phone.